Newsletter Services
When it comes to marketing your blog, a newsletter is a great way to promote your blog posts, products, and services to your readers and clients. Check out our post on why you should have a newsletter for more details.
There are a lot of newsletter and mailing services available on the web. Some work, some don't. We've even tried a few free ones. However, none of them perform as well as the service we're recommending to you below.
Aweber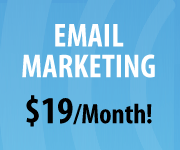 Not only is Aweber easy to setup, but it offers a ton of built in themes for your newsletters. You can instantly pick a look that matches your website. You can even embed your own logo to make it look even more professional.
They also allow you to attach files to your newsletters, which makes it a great platform for sending out things like ebooks or reports.
The price varies depending on how many people you have subscribed to your lists. The good news is you can manage multiple lists under one account. They start at 19 bucks a month, which is super cheap considering you can easily offset the cost with increased sales from your newsletter.
They also have an affiliate account (which we use here) that pays you for referring people to the service. This is another great way to offset the cost of your own newsletter plan.
We personally use this service on all our blogs and can help you get started. Feel free to contact us and we can help you get your newsletter up and running. We'll even help you implement it into your WordPress blog or website.